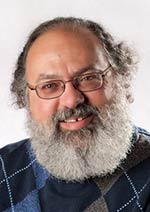 Mo (Host)
Of Egyptian heritage, Mo has been a student of the mysteries for years and has been a professional consultant for over thirty. His intensive studies have encompassed Tarot, Vedic Astrology, I-Ching, Hermetic Qabalism, Runes and numerous other spiritual systems.
He also has many other interests that seem too fun not to share.
Wanting to share his thoughts, no matter how odd, he's now where he always wanted to be, on the radio and, more importantly, on 12Radio.