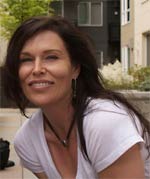 Krystene Du Maurier (Host)
Krystene Du Maurier is an interactive intuitive channel and energetic healer, and is an Advisor on 12Listen as well as a teacher and educator at 12Academy. Her passion sits squarely in Quantum Mechanics and alchemaic practices, teaching and facilitating workshops that enable and empower individuals to identify this incredible ability within themselves. Her mantra: This isn't just for some of us. It is for ALL of us!
Her happy place is sitting right in the middle of a dense and heavy energetic block, sleuthing out the through-lines that will ultimately generate release, renewal and a beautiful re-birth of the phenomenal Authentic Self. Her life's work and teachings bring a deeper sense of self and self-love that organically radiates out to friends, family and loved ones, and ultimately the world.
"There is just nothing like helping someone cross over that bridge into a whole new world of potentials and possibilities, and is an incredible privilege to be of service in this way."
Krystene is a concert pianist, composer and record artist and has created multiple albums and sound healing programs specifically designed to create an environment for healing in the physical, emotional, mental and spiritual aspects of our being. To become "healed" simply means to become "whole" and her musical compositions are intended to act as a catalyst towards this goal.
Visit Krystene's Website: http://www.kryschendo.com