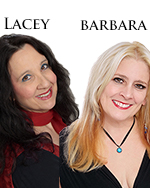 Thursday Morning Show (Host)
Barbara C is a professional Healer, Psychic Advisor, Reiki practitioner, Tarot/Palm reader, Manifestation Counselor, and Crystal Enthusiast for nearly 20 years. Through her travels and exploits in Europe and the USA, she has learned a lot of metaphysical techniques and methods that she implements in her spiritual work.
Life is meant to be enjoyed, so Barbara C enjoys introducing all sides of the spiritual, both serious and lighter. As an advisor, Barbara C tells it how it is in a loving way. She brings the same straightforwardness to her radio show. So, buckle up and let's get to exploring and having fun! Chocolate may or may not be involved.
Lacey Dawn Jackson is an Intuitive Life Coach, Psychic Advisor with clients from all over the globe. She has done many radio programs one of which she did as she traveled through New Zealand and Ireland telling of her many adventures. She has lived and traveled abroad as well as made her home in a 120 square foot tiny house for the past couple years. Just recently she rented a house on the Washington coast where she walks the beach or explores in the faery filled rain forest.
Lacey is an Eternal Optimist and thinks that we can all live our dreams. She is proof that we can all change the way we do things to live how we want. She thinks everyone is intuitive and she is passionate about teaching people how to find their magic within.
Lacey is the author of The Journey of the Groovy Goddess: Finding our Authentic Self. She has pieces published in Doreen Virtues, Mermaids 101, and Jodi Chapman's 365 Ways to connecting with our Soul, and 365 Moments of Grace. Lacey is working on her latest books, When my boyfriend kicked me out of the Van: Relationship tips for everyday life and 7 Steps to finding your Authentic Self.
Lacey's favorite things to do is to hunt faeries with her almost 3 year old grand-daughter, Miss Ellie, hiking in the rainforest, walking on the beach, creating yummy healthy meals. She loves to laugh and dance and spend time with others as long as they play nice.