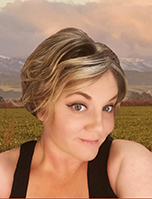 Amy Pacheco (Host)
Amy Marie Pacheco is an Angelic Reiki Master and psychic channel, paranormal researcher, bibliophile, disciple of love, seeker of truths, and forager of joy.
Her long-term goals in radio are to share with her listeners a light and fun space to be heard, to use humor to normalize Spirituality and Woo Woo-ism for everyone, and to Empower people to feed their souls without worrying about ''what their neighbors might think?'' It's also a great way for her to get to talk about her absolute favorite topics with like-minded individuals.
Is there something you've always wanted to know more about in Spirituality, Parapsychology, or New Age-ery? Let Amy Marie do the leg work and bring on expert guests, or personally present down-to-earth explanations on topics you're excited about.
Each week's topic will be randomly selected from questions sent in by listeners. A sort of ''Dear Abby'' for the Weird and Woo Woo, if you will. If you have a topic for Amy Marie to cover on air please email it to: 209JustBreathe@gmail.com and just throw ''Woo Woo Review'' in the subject line.