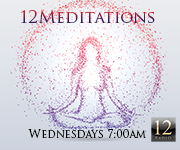 12Meditations (Host)
The multi-faceted, multi-talented Kristi Brower has revived her widely revered meditation show. A remarkable voice in the guided meditation world, Kristi knows that a morning started with an open heart and clear mind means a day that's even better.
This show will include the eclectic voices of other hosts of
12Listen
and
12Radio
.coms. So inhale and enjoy!